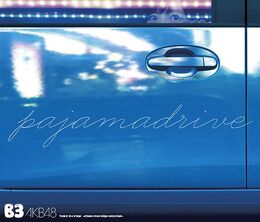 Temodemo no Namida is a song from Team B 3rd Stage. The song is also included in French Kiss's 1st single Zutto Mae Kara and NO NAME's 2nd single Kono Namida wo Kimi ni Sasagu.
Information
Artist
Composer

Terahata Sachiko
Arranger

Taguchi Tomonori

,

Inatome Haruo
Kanji Title

てもでもの涙
Romaji Title

Temodemo no namida
English Title

Careless tears
Single

Zutto Mae Kara

(French Kiss)

Kono Namida wo Kimi ni Sasagu

(NO NAME)
Stage

AKB48 Kenkyuusei Pajama Drive
Lyrics can be found here (Stage ver.) / here (French Kiss ver.) / here (NO NAME ver.).
Performing Members
B3 Version
B3 Revival Version
French Kiss Version
Kashiwagi Yuki, Kuramochi Asuka, Takajo Aki
NO NAME Version
Team E Version
NIII2 1st Unit Version
NIII2 2nd Unit Version
Team H Version (Waiting Stage)
Matsuoka Natsumi, Moriyasu Madoka
HKT48 Version
Matsuoka Natsumi, Moriyasu Madoka
AKB48 Kenkyuusei Version
AKB48 Request Hour
SKE48 Request Hour
Request Hour 2011

- #23

Request Hour 2012

- #46
Concert Units
AKB48 Masaka, Kono Concert no Ongen wa Ryuushutsushinai yo ne?
Sado (Shinoda Mariko), Yuuko-senpai (Oshima Yuko)
SKE48 ni Ima, Dekiru Koto @Zepp Nagoya
AKB48 Kouhaku Utagassen 2011
AKB48 x JKT48 Concert "Bergandengan Tangan Bersama Kakak"
Trivia