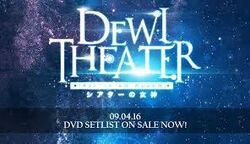 Theater no Megami is a coupling song from JKT48's 10th single Kibouteki Refrain, by Team J. The song is also included in Team J 3rd Stage and Team T 6th Stage.
Information
Artist
Indonesian Title

Dewi Theater
Japanese Title

Theater no Megami
English Title

Goddess of the Theater
Single
Lyrics can be found here.
Performing Members
Team J: Ayana Shahab, Nakagawa Haruka, Beby Chaesara Anadila, Melody Nurramdhani Laksani, Jessica Veranda Tanumihardja, Dena Siti Rohyati, Devi Kinal Putri, Gabriela Margareth Warouw, Ghaida Farisya, Jennifer Rachel Natasya, Jessica Vania Widjaja, Nabilah Ratna Ayu Azalia, Rezky Wiranti Dhike, Sendy Ariani, Shania Junianatha, Thalia Ivanka Elizabeth
Lyrics