Tokuyama Daigoro wo Dare ga Koroshita ka? (徳山大五郎を誰が殺したか?  Who killed Daigoro Tokuyama??), also known as Tokudare (徳誰  Tokudare?), is a drama series featuring the members of Keyakizaka46.
Cast
Shiritsu Keyaki Gakuen (

私立欅学園

?

)
Class 3-C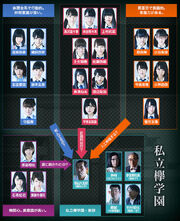 Adviser

Shimada Kyusaku as Tokuyama Daigoro/Tokuyama Ishiro (dual role)

Students (Keyakizaka46) [Nickname/LINE name]
Faculty
Iwamatsu Ryo as Principal Sangubashi
Hamada Mari as Principal Midozono Kazusa
Eguchi Noriko as Kanzaki Yukie
Aijima Kazuyuki as Takemura Tetsuya
Konno Hiroki as Hashibe
Arno Le Gall as Noel Frank
Morishita Yoshiyuki as the school's security guard
Other Characters
Fuse Eri as Mrs. Tokuyama Kaori
Sugawara Daikichi as Detective Yashiro
Nagaoka Tasuku as the mysterious man who was last seen talking to Tokuyama before he died
Nakayama Erina, Arai Moe, and Okamoto Anri as Keyaki Gakuen Alumni
Tanaka Yoji as the new unknown corpse
Episodes
Amazon Prime releases an episode one week earlier than the TV broadcast. Each episode's sub-title could have two different meanings/translation for the word "shitai" (シタイ  "shitai"?), similar to a pun.
Ep
Title
Translation 1
(したい)
Translation 2
(死体)
TV-Tokyo
Amazon Prime
1
Kaku Shitai (

隠シタイ

?

)
Wants to hide
Hidden Corpse
July 16
July 10
2
Kata Shitai (

騙シタイ

?

)
Wants to deceive
Deceptive Corpse
July 23
July 17
3
Moya Shitai (

燃やシタイ

?

)
Wants to burn
Burn a Corpse
July 30
July 24
4
Soya Shitai (

捜やシタイ

?

)
Wants to investigate
Investigate a Corpse
August 6
July 31
5
Saiban Shitai (

裁判やシタイ

?

)
Wants to examine[1]
Examine a Corpse
August 13
August 7
6
Sayonara Shitai
(

さよならシタイ

?

)
Wants to bid farewell
Bid farewell to a Corpse
August 20
August 14
7
Narisuma Shitai
(

なりすまシタイ

?

)
Wants to masquerade
Masquerading a Corpse
August 27
August 21
8
Shou Shitai (

消シタイ

?

)
Wants to vanish
Vanishing a Corpse
September 3
August 28
9
Kowa Shitai (

壊シタイ

?

)
Wants to destroy
Destroying a Corpse
September 10
September 4
10
Ai Shitai (

愛シタイ

?

)
Wants to love
Loving a Corpse
September 17
September 11
11
Itazura Shitai (

悪戯シタイ

?

)
Wants to prank
Pranking a Corpse
September 24
September 18
11
Shoppikitai (

シょっぴきタイ

Shiyoppikitai

?

)
Wants to arrest
Arresting a Corpse
October 1
September 25
Music
Mentions
External Links
Note
↑

Examine as of a trial. Examination of evidence before a judge
Community content is available under
CC-BY-SA
unless otherwise noted.