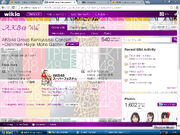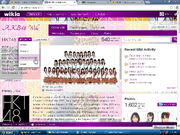 Due to the problem arising from too much information being the same as that in Wiki48/Stage48 (which I apologized for: User_blog:Sijfer/About_Wiki48/Stage48) I would like to protect the pages from outsiders, so that only the ones who are logged-in can edit the pages. This is to block anyone that isn't logged-in (even me, if I forgot to log-in) from editting the pages and erasing them, just like what happened to 3 of the pages. One of them is AKB48 Group Rinji Soukai "Shirokuro tsukeyou janai ka!", which was recently attacked by a person only known by his I.P. number 94.14.210.10, possibly claiming to be a member of Stage48, left the message: "Stop copying Wiki48 pages". The message can be clearly seen in the page's History Section. To my fellow contributors to this Wiki, I humbly apologize for this, and for the new users, make sure to contact me through my wall (Message_Wall:Sijfer) if you can't access/edit the page you want to contribute, and I apologize for that.
We've made protections on some of the pages that are in need of serious changes because of having most of them similar with Wiki48, leaving BKA48 and some pages related to Nogizakatte, Doko?.
The other 2 pages that were attacked were AKB48 2013 Summer Dome Tour ~Mada Mada Yaranakya Ikenai Koto ga Aru~ and AKB48 Group Kenkyuusei Concert ~Oshimen Hayai Mono Gachi~, in which I have left an apology in the latter page. So, again, to those who will be inconvenient by my action, I apologize.
Related Topics
Discussion in MediaWiki Community about the same issue in other Wikias
Apologizing Sincerely,
Sijfer (talk) 19:39, June 23, 2013 (UTC)
Community content is available under
CC-BY-SA
unless otherwise noted.