Yabuki Nako
矢吹奈子

Yabuki Nako, 2021

Information
Nickname
Nako (

なこ

?

)
Birthdate
June 18, 2001
Birthplace
Tokyo, Japan
Bloodtype
**
Zodiac Sign
Gemini
Professional Information
Years Active
2013-present
(7 years)
Agency
Mercury
Group
HKT48
Team
Team H
Generation
HKT48 3rd Generation
Associated Acts
HKT48
SNS
yabuki-nako
@nako_yabuki_75
@75_yabuki
SHOWROOM
Yabuki Nako is a member of HKT48's Team H. She is a "LOVE Berry" exclusive model.
Team History
AKB48 Senbatsu Elections
AKB48 Janken Tournaments
Singles Participation
HKT48 A-Sides
HKT48 B-Sides
AKB48 A-Sides
AKB48 B-Sides
IZ*ONE A-sides
IZ*ONE B-sides
Other Songs
Pick Me (Naekkeoya)
Pick Me (Nekkoya)
Love Whisper (Center of Group 2)
Into the New World
To Reach You (너에게 닿기를)
We Together (Produce 48 ver.)
Yume wo Miteiru Aida (Produce 48 ver.)
Albums Participation
HKT48 Albums
AKB48 Albums
IZ*ONE Albums
Units
Stage Units
RS3 (Nounai Paradise)
H2 (Seishun Girls)
HW1 (Pajama Drive)
H3 (Saishuu Bell ga naru)
HW2 (Tadaima Renaichuu)
B6 (Tadaima Renaichuu)
H4 (Theater no Megami)
H5 (RESET)
Concert Units
Oita Iichiko Grand Theater
Miyazaki Shimin Bunka Hall
Kumamoto Kenritsu Gekijou
Kagoshima Shimin Bunka Hall
Saga Shimin Kaikan
Nagasaki Brick Hall
HKT48
Japanese Locations
Taipei, Taiwan
Hong Kong
Yokohama Arena
Eyes On Me
Oneiric Theater
Adult Ceremony (Park Jiyoon Cover)
Solo Songs
Media Appearances
Stage Plays
Variety Shows
IZ*ONE CHU
Idol Room
Weekly Idol
AmigoTV (Season 4)
QT Show
JTBC Human Intelligence
The Show Mini Game
Comedy Big League
AbemaTV
Survival
Radio
All Night Nippon
KBS Cool FM
Saku no Ki
Trivia
Audition song: Kimi no C/W
Charm point: Dimples "that she received from her mama"
Hobbies: Watching movies by herself, karaoke, stretching out her short neck
Favorite AKB48 members: Watanabe Mayu
Favorite 48 Group songs: FIRST LOVE, Namioto no Orugoru, Hiri Hiri no Hana
Favorite candies: Choco Pie
Favorite food: Caramel pudding
Special skills: Fast braiding, switching from double to single eyelids in an instant
Nickname: Kinako (きなこ) (formerly)
Close friends with: Miyawaki Sakura (SakuNako), Tanaka Miku (NakoMiku), Matsuoka Hana (HaNako), Tashima Meru (MeruNako), Honda Hitomi (HiiNako).
Admired members: Sashihara Rino (SashiNako)
Name in Hangul : 야부키 나코
Has an older brother named Mitz and an older sister called Yeri.
She has a bird named Jirojo.
Featured in a multitude of commercials and small movie and drama roles before entering HKT48.

Her audition number was 21.

Became Center of Wink wa Sankai within a month of debuting in HKT48
Ace of 3rd Generation.
Has an older and younger sister.
She likes karaoke on her SHOWROOM.
Afraid of heights.
Likes to play card games, especially daifugou.
Has a parakeet named "Moriyama Yukio".
The second youngest member to ever get a Concurrent Position, at the age of 13 years, 9 months and 9 days.
Her costume for 20nin Shimai no Uta has a teddy bear backpack that she called YabuKing.
Her Hogwarts house (Harry Potter) is Gryffindor.
On May 15, 2021. Nako came back to posting on her Instagram and Twitter after long time.

Nako's HKT mobile mail re-activated on May 17[1].
Sashihara Rino's using member privileges to be subscribed Nako mail for free[2]

On June 18, it was anounced that Yabuki Nako's will be making her first Theater performance on June 26th since she returning from hiatus.
IZ*ONE Official Character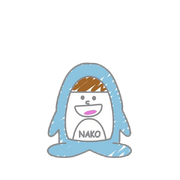 Gallery
Games
HKT48 Singles
IZ*ONE-related Singles
References
↑ .指原莉乃 @345__chan Sashihara Rino Twitter post
Community content is available under
CC-BY-SA
unless otherwise noted.