Zero to Ichi no Aida
Released:
January 21, 2015
Genre:
J-Pop
Format:
CD Album, Limited Edition DVD
Recorded:
2015
Label:
You, Be Cool!/KING RECORDS
Producer:
Akimoto Yasushi
Complete Singles

AKB48 Album Chronology
Previous:
Koko ga Rhodes da, Koko de Tobe!
6th Album
(2014)
Next:
Thumbnail
8th Album
(2017)
Singles from Zero to Ichi no Aida
 
0 to 1 no Aida is the seventh album (third best album) released by AKB48. It was released in three versions: a limited "Complete Singles" 3CD edition, a regular "No.1 Singles" 2CD edition, and a regular "Million Singles" 2CD edition.
Tracklist
Complete Singles
AKB48 Group Members Air-Handshake 2015 (AKB48グループメンバー エア握手会2015)
DECADE ~AKB48 Path of 10 Years~ (DECADE~AKB48 10年の軌跡~)
No.1 Singles Edition
Million Singles Edition
Theater Edition
Included Members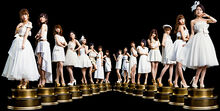 (16 Members)
Oricon
Trivia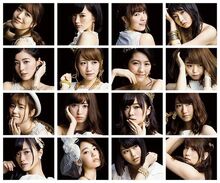 Complete Singles Edition Cover
No. 1 Singles Edition Cover
Million Singles Edition Cover
Community content is available under
CC-BY-SA
unless otherwise noted.